Barn Reclamation: Claredon, NY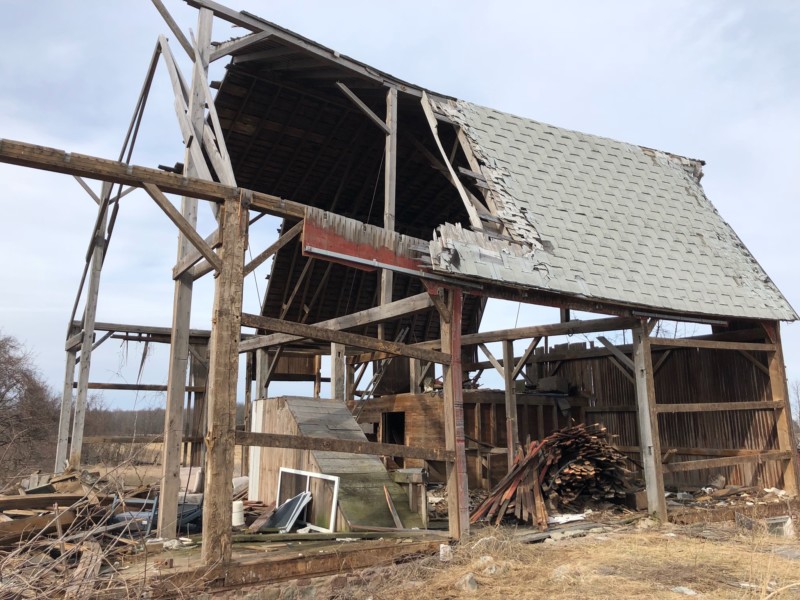 Now that spring has finally sprung in Upstate New York, we can focus on dismantling a few barns that we acquired over the winter. The first structure is located in Clarendon, NY on a 200-year-old farm recently purchased by a nonprofit church to be transformed into a small retreat. In order to proceed with their plans, as well as receive the proper insurance, the organization must bring down the remainder of the barn and make sure their property is safe. Obviously, that is where Sundog comes in.
The church will be renting a large dumpster for us to dispose of all the waste, and we will harvest anything that still has value. Fortunately, the majority of the roof is on the ground, and we can make quick clean up of a lot of material we can't use. This particular barn still has a tremendous amount of siding in great condition. Some has weathered red paint, and some is completely weathered silverfish-gray, depending on what side of the barn the boards are located. The majority of the posts and beams are in great shape, and the floor joists that remain under the main floor have been protected over the years to remain in impeccable condition.
Although a third of the barn has already collapsed, leaving quite a mess, there is still enough salvageable material to make it worth the time for our inventory. After cleaning up waste enough to make it a workable environment, we'll start the process by removing all of the tongue and groove siding piece by piece. This will leave the "skeleton" of the barn, and allow us to better access the strength of the reaming structure. Next, we will most likely remove the perlon beams that stretch across the portion of the barn where the roof has already collapsed. The 10" x 10" and 8" x 8" posts and beams would then be exposed enough to carefully take down.
At that point, we can probably knock over the remaining structure and reclaim what has gone undamaged from the fall…all from the safety of our feet on the ground. It will take a few days to get to this step, but the treasure that lies beneath the floor will make the time spent entirely worth it. Hidden by century old floorboards are dozens of 4" x 6" floor joists that will someday become beautiful, dining room tabletops or massive, decorative signs. As we dismantle a barn piece by piece, board by board, we always love envisioning the second life of the wood, and the stories it will tell in the future.